Varieties Varieties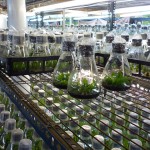 If you dream of indulging yourself in a candystore of orchid varieties, Taiwan is the place to be.
We offer orchids from flasks up to mature plant size from a wide range of breeders and growers across Taiwan, thus allowing us to offer an extensive colorful range of orchids including new and rare breeds.
Our company also cooperates with a group of breeders, which have their own tissue culture teams to develop new varieties from a wide selection of parents including our own. We then select the varieties that we feel most suit the market trends worldwide and make them part of our official Allura™ Series. As a result we offer unique and vigorous varieties not offered by anyone else but us.
As we communicate fluently in English, German, French, Dutch and Chinese, while also understanding Spanish, you can count us as your link to Taiwan's orchid industry. We can make sure your precise needs are well understood and considered seriously by the breeders and growers with whom we are constantly in touch.
var _gaq = _gaq || []; _gaq.push(['_setAccount', 'UA-35051235-1']); _gaq.push(['_setDomainName', 'allura-biotech.com']); _gaq.push(['_trackPageview']);
(function() { var ga = document.createElement('script'); ga.type = 'text/javascript'; ga.async = true; ga.src = ('https:' == document.location.protocol ? 'https://ssl' : 'http://www') + '.google-analytics.com/ga.js'; var s = document.getElementsByTagName('script')[0]; s.parentNode.insertBefore(ga, s); })();